Breakfast Pizza Recipe
Recipe for Breakfast Pizza
A breakfast pizza recipe is great way to start the day. Breakfast pizza is a delicious alternative to the same old egg and toast breakfast.
Looking for a new recipe for breakfast? Trying a recipe for breakfast pizza instead of your typical egg recipes will make your morning extra special.
Making a pizza for breakfast can be as fun as eating it (well, almost!).
Get creative and add your favorite toppings to a variety of different "breakfast type" crusts such as;
You can also use pie crusts to make a quiche-type breakfast pizza.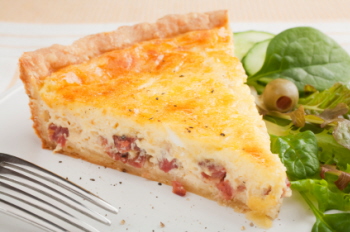 Thought pizza was only for lunch or dinner? Nah...
A breakfast pizza can be an awesome way to start out the day. Get creative and experiment with different ingredients. Here are some toppings ideas:
fruits such as mangos, kiwis, strawberries, bananas, pears, blueberries
breakfast meats such as sausage, ham, or maple-flavored bacon, or maybe some Canadian bacon. Yummy!
scrambled, fried or poached eggs to make a Breakfast Pizza as a Sausage and Egg Pizza
and don't forget to add some veggies, like, green or red peppers, mushrooms or anything else you prefer.
A tomato-based sauce may not sound appealing on a Breakfast Pizza Recipe, but you can find a few good alternatives. Here are some "sauce" ideas:
jelly or jams
ricotta cheese
hollandaise sauce
honey
creamy garlic sauce
Because these flavors are fairly strong and/or sweet, be careful to match up your toppings to compliment the sauce. Bacon and grape jelly may not go well together!
More Delicious Recipes
Breakfast Pizza - Sausage and Egg Pizza
Back to the top of Breakfast Pizza Recipe