Pizza Restaurants
Pizza Restaurant Menus
Prefer to sit down in a restaurant and enjoy your pizza?

Pizza restaurants are a great gathering place, whether it's a sports bar with pizza and beer, or a family-style buffet setting, most pizza places offer a great setting for those looking to share quality time with friends and family.
Sure, sometimes it's nice to sit on the couch and eat the pizza right out of the box, or perfect a pizza recipe in the comfort of your own kitchen, but it's also nice to get out and enjoy someone serving you and cleaning the mess afterwards, right?
The beauty of pizza, as I've mentioned before on this site, is the great variety of styles, prices, flavors, restaurant types and ways to get that fabulous pie, whether it be from the grocery store, delivery person or that awesome pizza joint down the street.
In this section we'll explore a few different pizza restaurant chains to see what all they offer. You may not have all of these places in your city or town, but if you have experienced any or all of these restaurants, I encourage you to rate your favs and not so favs in the form at the bottom of each page.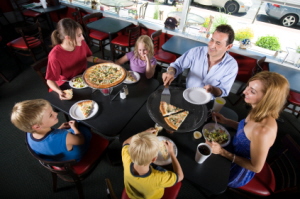 Pizza Restaurants
California Pizza Kitchen
– CPK is a great meeting place for friends and family alike. Their large menu has more than just a few tasty pizzas and salads.
CiCi's Pizza – Located in 35 states, Cici's offers an affordable, family-friendly environment and food served buffet-style.
Godfather's Pizza – If you have a Godfather's in your state, you may have tried their taco pizza or hot stuff pizza…or perhaps their gluten free pies?
Learn more about Godfather's Pizza Coupons.
Mazzios Pizza – This smaller chain offers a nice family-friendly environment to folks in over 10 states. Is there one in your state?

Old Chicago Pizza – Enjoy a sports bar environment, full menu and a huge selection of beers at this Chicago-inspired pizza place.



Roundtable Pizza – Created as a destination for families, this pizza restaurant has grown to over 500 locations, primarily in the Western part of the U.S. (and Hawaii).
Learn more about Round table pizza coupons
Pizza Patron – Finding a niche within the Hispanic community, Pizza Patron celebrates the Latin culture while staying true to a traditional pizza menu.
Shakey's Pizza - This pizza chain started in my home state of Oklahoma, so it rates good in my book!
Z Pizza – Carving out a name for itself in the healthy pizza category, this restaurant is finding new ways to make pizza wholesome while keeping the flavor.
Pizza Ovens
Are you looking to cook your pizza outside? Try our
outdoor pizza ovens
. We also have
home pizza ovens
for indoors and if you are looking for a project to do, try to
build your own pizza oven
.
Pizza crusts
Want a quick and easy way to make the pizza dough? Try a
bisquick pizza dough
.
Need a gluten free pizza crust recipe? Try our gluten free pizza crust today. You will love it.
Our Newsletter
Don't forget to
sign up for our newsletter
and receive awesome tips, recipes and more. All related to pizzas!
And if you want, share your favorite recipes with us so we can enjoy them too.
Back to the top of Pizza Restaurants