Papa Johns Pizza
Papa John's Nutrition
Papa Knows Best?
We don't want to sound bias, but Papa John's pizza is one of our favorites. The crust is soft and chewy, and let's not forget that mouth-watering garlic sauce for dipping when you get down to only crust. (Try making a copy cat Papa Johns pizza dough recipe at home).
Papa John's is relatively new on the market compared to our friends at Pizza Hut and Dominos. Founded in 1984 by a young John Schnatter, Papa John's now has over 3000 restaurants worldwide.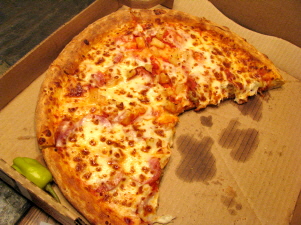 Using the slogan, "Better Ingredients. Better Pizza" Papa John's has sliced (sorry for the pun!) itself a nice position in the world of pizza delivery.
"Papa" John himself is a young, handsome guy who still pitches his pizzas in his commercials. It is nice to put a face with a brand. Pizza Hut and Dominos have grown too big and corporate to be able to do that. Does it matter? It may to some, but what it really comes down to is the pizza, and Papa John's seems to be holding up nicely.
Let's take a closer look at Papa John's menu and other fun stuff.
More About Papa John's
Papa John's Pizza Dough Recipe - Try this homemade recipe that taste just like the real thing.
Papa John's Menu - How big is the selection? Are the ingredients really better?
Papa John's Coupons - How good are the deals and are they easy to find?
Papa John's Nutrition - How does this pizza chain stack up in the nutrition department?
Pizza Ovens
Are you looking to cook your pizza outside? Try our outdoor pizza ovens. We also have home pizza ovens for indoors and if you are looking for a project to do, try to build your own pizza oven.
Our Newsletter
Don't forget to sign up for our newsletter and receive awesome tips, recipes and more. All related to pizzas!
And if you want, share your favorite recipes with us so we can enjoy them too.
Back to the top of Papa Johns Pizza