Philly Cheese Steak Pizza Recipe
Meat Lovers Pizza
This Philly cheese steak pizza recipe has all the great flavors of a Philly cheese steak, but on a pizza! Try this cheese steak pizza and tell us what you think.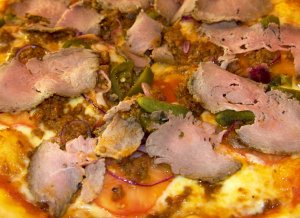 If you're a philly cheese steak fan, then here's a philly cheese steak pizza that's worth a try. It combines two great foods into one delicious meal.
Ingredients
9 frozen dinner rolls (Rhoades brand is good), thawed to room temperature
2 tablespoons olive oil
1 medium size yellow onion, thinly sliced
1 medium size green pepper, cut into strips
1 cup sliced mushrooms
1/2 pound deli roast beef, cut into bite size pieces
3 tablespoons Cheez Whiz
1 cup grated provolone cheese
Directions:
Spray counter lightly with non-stick cooking spray.
Combine rolls together and roll into an 11x14-inch oblong shape, about 1/4-inch thick.
Place on a sprayed baking sheet.
Poke several times with a fork to prevent bubbles from forming.
Pre-bake at 350°F for 10-15 minutes.
Pour olive oil in a skillet.
Add onions, peppers, mushrooms, salt and pepper and saute until tender and set aside.
Spread pre-baked crust with Cheez Whiz. Top with meat and onion mixture.
Sprinkle with provolone cheese.
Bake at 350°F 10 minutes or until cheese is melted.
Enjoy!
Pizza Ovens
Are you looking to cook your pizza outside? Try our outdoor pizza ovens. We also have home pizza ovens for indoors and if you are looking for a project to do, try to build your own pizza oven.
Fruit Pizzas
Looking for something healthy and nutritious? Try one of our fruit pizza recipes. We offer some awesome recipes for an Apple pizza, an orange pizza, pineapple pizza and much more!
Pizza crusts
Want a quick and easy way to make the pizza dough? Try a bisquick pizza dough.
Need a gluten free pizza crust recipe? Try our gluten free pizza crust today. You will love it.
Our Newsletter
Don't forget to sign up for our newsletter and receive awesome tips, recipes and more. All related to pizzas!
And if you want, share your favorite recipes with us so we can enjoy them too.
More Delicious Recipes
Back to the top of Philly Cheese Steak Pizza Recipe