Quick Pizza Dough Recipe
by Robin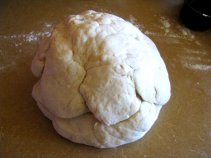 Pizza Dough From Scratch


Here is an easy and quick pizza dough from scratch for when you are in a hurry.

This recipe was passed down through a couple of generations. You can always change the All Purpose Flour to whole wheat flour to make a whole wheat pizza dough.

This is an awesome recipe for a thin crust pizza dough.

Try making it and let me know what you think in the comments box.



Ingredients:

2 cups All Purpose Flour
1 pkg. Instant yeast
1/2 tsp. Salt
3/4 to 1 cup Water

Directions:

Place flour, yeast, salt in food processor.

Measure out the hot water.

With food processor running, pour 3/4 cup down feed tube.

Add more water if you need to, 1 tbsp at a time until smooth dough forms.

You can add flour while stirring if dough is sticky.

Spread on your favorite pizza pan, add your topping, ( I like lots of cheese and mushrooms) and cook as you would for any pizza.

Enjoy!