Little Caesars Pizza Coupons
Little Caesars Pizza
Does this pizza chain even have coupons?
Little Caesars pizza coupons do exist, even for this inexpensive Little Caesars Pizza Pizza chain.
Finding Little Caesars pizza coupons might be a tad harder then say, a Pizza Hut coupon.
The reason being is that Little Caesars has pretty cheap pizza as it is.
That's not to say that you can't find coupons for this pizza chain though.
They often offer specials and combo deals, but because their prices are on the low side already and you don't really need a "coupon" to get the lower price, coupons are not as common for Little Caesars (how many Taco Bell coupons do you see?!).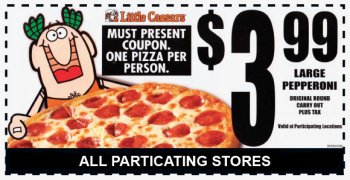 Little Caesar's Website
To find coupons, as always, search Little Caesar's website for any valid deals in your area. For example, right now you can click here and get a Crazy Combo of breadsticks and sauce for 1.99 with the purchase of a pizza (good through June 30, 2011 at valid locations).

Next month may be a totally different special. You'll have to wait and see! Until then, go splurge on that $5 pizza – and get some breadsticks while you're at it!
Blogs and Coupon Sites
If you do an Internet search, you'll find plenty of websites that claim to have Little Caesars pizza coupons. Some blogs simply link to the coupon page on Little Caesars website (like I did above!), while others offer codes, etc.
As always, I don't always know how accurate or "real" those coupons really are. Try at your own risk. Visit the pizza chain's website for the latest and greatest deals in your area.
iPhone App – not yet, Social Media
From what I can tell, you can't sit back and wait for Little Caesar's to send you a text or an email of their latest deals. They don't have an email signup on the website and if you're looking for a Little Caesars iPhone app, you're out of luck.
You can follow Little Caesars on Twitter or visit their Facebook page (and perhaps find some good deals!).
Hopefully they jump on the new media bandwagon soon.
More About Little Caesars
Our Newsletter
Don't forget to sign up for our newsletter and receive awesome tips, recipes and more. All related to pizzas!
And if you want, share your favorite recipes with us so we can enjoy them too.
Back to the top of Little Caesars Pizza Coupons